Kikishipka
March 12, 2019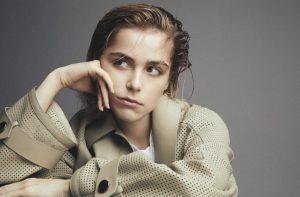 Child stars tend to all grow up in the same way: early success, flailing box-office figures through puberty, parental emancipation, a very public skidding off the rails, a couple of stints in rehab, bankruptcy and finally, self-imposed isolation.
Kiernan Shipka shows no sign of following that pattern. At 19, she is just old enough to vote (and she intends to: "I try to be woke"), but too young to buy alcohol in America – not that the legal drinking age, or the illegality of drugs, has stopped many child stars from developing habits, I remind her. "I was doing really normal kid things so I guess that never even really felt available. I mean, I'm sure it was available if I'd really sought it out, but I didn't."
Depending on your age, you'll recognise Shipka for one of two roles. To the over 30s, she's Sally, the eldest child of Don and Betty Draper on the long-running series Mad Men, Matthew Weiner's drama set in the advertising industry in 1960s New York.
To the under 30s, she's Sabrina Spellman, the half-witch, half-mortal protagonist of Netflix's Chilling Adventures of Sabrina, based on the Archie Comics character. It's produced by the team behind Riverdale, Netflix's incredibly popular modern take on the Betty and Veronica, Archie and Jughead comics.
Dressed in velvet trousers and a matching crop top, her blonde bob slicked back, Shipka looks, if anything, younger than her years, seeming precocious as she gushes "thank-you-so-much" at speed to everyone on set. It's the morning after Fendi's autumn/winter 2019 menswear show in Milan, and Shipka fizzes over the clothes, the city…
She's at ease in the fashion-shoot setting, used to working with stylists both on television sets and for red carpet appearances, where her style has evolved from child-appropriate babydoll and prom dresses to embellished mini-dresses and statement trouser suits of late.
Her accent is broad LA: she projects her voice, and smiles constantly. (If anyone at home is having problems with surly teens, media training might provide the answer.) Despite her youth, Shipka is focused, at ease, eloquent. There's no agent in the room with us to deflect unwelcome questions; neither is there any trace of nervousness – but then, she's not new to this.
Shipka's first acting job came at five months old, on the hospital drama ER. "I did commercials growing up, everything under the sun like Toys 'R' Us, Trix [cereal], Hershey's." The days were relatively short, she reassures me when I ask – so she wasn't eating cereal on repeat for 14 hours, then? "No, not 14 hours, probably like five or six hours."
As Shipka tells it, she convinced her parents to up sticks and move from Chicago to LA for her career: she was six at the time. Her father was a property developer; her mother "signed me up for every single class under the sun, and the acting thing was what stuck."
Memories of Shipka's first red carpet are a little fuzzy. She won her first Screen Actors Guild Award aged nine, as part of the ensemble cast of Mad Men. "Honestly, it was a little bit jarring at first – you have a million different people with cameras yelling your name in so many different directions.
"I remember I just didn't know where to look or what to do, but luckily I had people like January Jones to tell me how to proceed." Shipka was six when she was cast in Mad Men. She read the scripts, but wasn't allowed to watch the series because its storylines were too adult.
While Sally Draper bought alcohol with a fake ID, in real life Shipka "was pretty happy going bowling on a Saturday night and doing karaoke." She saw teens 'grounded' as punishment in films and asked her mother to do the same: "She was like, "No, I'm not going to ground you!"" Shipka hadn't done anything transgressive enough. "I think I was just playing it on TV, so I was like, "I'm done.""
The cast on Mad Men were very protective of me. They always treated me like an adult – they never talked down to me like I was a kid – but at the same time, I was never out late at parties and stuff like that. I think it was just good parents, good people."
If Shipka wasn't watching Mad Men, neither was anyone else her age: "Because I was on more of an adult show, my friends didn't care. It probably would have been different if I was on like a very popular young adult show," she says. The series ended in 2015, and while Shipka continued to act, life untethered to a regular show allowed her a taste of normality.
"I travelled, I took a lot of different classes, college courses [fashion history, sociology], too, because I graduated high school pretty early, I hung out with a lot of friends, did a lot of yoga, I learnt to cook, I read a bunch of stuff."
Despite enjoying the freedom, Shipka gave it up again last year for the titular role in Sabrina, a textbook example of a "very popular young adult show," moving to Vancouver to film 13-hour days (not including hair, make-up or travel) five days a week for nine months. The show has been renewed for a second season, due this April.
If Mad Men's older audience protected Shipka from feeling famous among her peers, that's quickly changing with Sabrina. "The main difference is that the younger fans are really active on social media," says Shipka.
"I don't think Instagram existed when I started Mad Men. Now I feel equipped to use it and manage it so that my mental health can be kept in check – but I can only imagine being 10 or 11 and being inundated with that pressure of having to post. There are a lot of pros to it, but there are also a fair share of cons and toxicity, too, so I'm kind of happy that it became more prevalent as I got older and more sure of just myself as a person."
Home is with her mother, father, uncle, grandmother and dog in LA; Shipka didn't go to school, instead completing an independent study programme. "I went to a lot of dances, though – I was pretty adamant about having as much of a childhood, high-school teenage experience as I could." Her first kiss was on-screen, and she is tactfully non-committal on the subject of relationships; she doesn't mention a boyfriend.
She recently visited a friend at Harvard. "I went to a party thrown by The Harvard Lampoon, which is their satirical magazine, and it was a very fun party with very smart, funny people." It could have been the Sliding Doors moment that made her consider taking a few years off from acting: "I was thinking I was going to have that moment, and I actually kind of had the opposite moment. I'm happy I'm doing what I'm doing – I don't feel like I would want that kind of structure."
Instead, filming Sabrina "feels quite like college," with the cast socialising after work. Shipka welcomes the change: "It's the first show I've done with people actually close to my age," she says.
Which is 19, I remind myself as Shipka tells me about her ambitions – a musical, a comedy, a physically transformative role – and tries out her British accent on me (pretty good). "I feel like the amount of life that I've got to experience, and the amount of adults that I've been around my entire life – I've never really felt my age. Not like, "Oh, gosh, I feel corrupted,"" she says. "I've just been working for a long time."